Bronze
Porous Bronze components are available in Micron Grades from 5 to 250 and offer a good balance of economics with adequate mechanical strength, temperature resistance and corrosion resistance for many applications. Porous Bronze is normally manufactured by Gravity Sintering, so secondary operations are required for close dimensional control. For improved corrosion resistance, Bronze components can be electroless nickel plated without blocking the pores.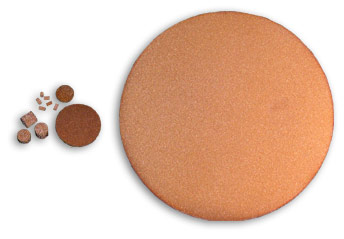 Porous Bronze components typically consist of 89-90% copper, 10-11% tin and 0.1-0.5% phosphorous. The tin provides the low melting point phase to from the sinter bonds between the powder particles and the phosphorous is added to improve mechanical strength. Porous Bronze components can be produced from pre-blended elemental powder mixes or from pre-alloyed powders. Spherical Bronze powders are made by gas atomization of molten bronze or by tin coating of gas atomized copper powders. Cylindrical Bronze powder particles can also be made by cutting fine diameter, tin coated copper wire with a composition of 93-97% copper and 3-7% tin.
Spherical or cylindrical shaped powders do not interlock with compaction, so gravity sintering is normally selected to manufacture porous bronze components. A diffusion or liquid phase bond is formed between the particles when loose (non-compacted) powders are heated to a temperature near the melting point. Since only localized melting occurs at the contact points between the powder particle surfaces, interconnected porosity can be controlled by closely controlling the sintering process. Discs, cups, bushings or other simple shapes can be produced using this method. Typically, parts have a 1° draft angle to facilitate part release from the mold and have dimensional tolerances of +/- 3%.
Typical Applications for Porous Bronze P/M Components

Gas Filters for Pressure Regulators
High Viscosity Liquid Filters such as for Glue and Polymers
Mold Vents
Flow Diffusers
Sound Mufflers
Reservoirs for holding other materials, such as oil in self-lubricating bearings